Practical Information
Innovation Summit Barcelona 2019 is an invitation-only event with limited spaces available. Participation is free of charge. We recommend you register as soon as possible to secure your seat.
 
Registering and attending Innovation Summit Barcelona implies you have accepted the event's Terms & Conditions. Consent box must be checked during the online registration process. As such, you also authorize Schneider Electric to send you email communication and information related to the event (such as confirmation email, event program, mobile app, etc.)
The information below will give you more details regarding the event location, opening hours, accommodation, food & beverage during the event, security, cloackroom, visa, dresscode, weather, foreign currency exchange and emergency.
col-sm-12 col-md-5 row-mid top-80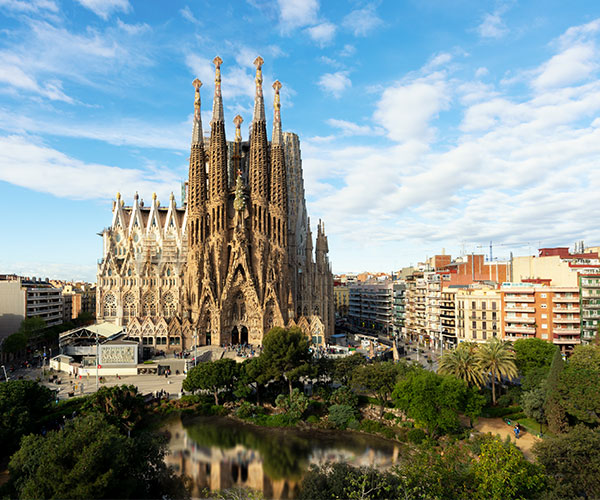 CCIB - Barcelona International Convention Center
Schneider Electric Innovation Summit Barcelona 2019 will be held at the Barcelona International Convention Center (CCIB), a leading European location for event organization. Enjoying a privileged location in modern, cosmopolitan Barcelona, the CCIB can be found within the city's new business and technology district, known as 22@. For more information, please check the CCIB website.
row-end col-md-10 col-md-push-1
Innovation Summit Barcelona Opening hours
Registration Desk Hours: 
Tuesday, October 1: 8:00 – 19:00
Wednesday, October 2: 8:30 - 19:00
Thursday, October 3: 9:00 - 14:30
The Innovation Hub will be open as of 8:30 am on Wednesday, Oct. 2 and 9:00 am on Thursday, Oct. 3.
On Wednesday, October 2, we will kick off with the first session at 09:30 am
Sessions will be presented in English or Spanish. Simultaneous translation vice versa will be provided. 
Selected sessions will be translated in other languages (more information to come). 
Please check the complete agenda here for details & languages availability.
Access to the Conference Area
Access through the Convention Center and follow the Innovation Summit signage. The venue is accessible for people with reduced mobility.

If you are are housed at one of our partners hotels, shuttles to-from the CCIB are available from some of them. Check the Transportation Schedule here.
By car
From Barcelona airport (El Prat) 30 min
From the train station (Sants) 25 min
By public transportation
From Barcelona airport (El Prat) 1h10 min
From the train station (Sants) 45 min
Read more: How to access the CCIB
 
Accommodation
We have a set of rooms available at a preferred rate in our partners hotels. 
If you would like to reserve a room, please follow the instructions on your online registration form.

Shuttles to-from the CCIB are available from some of our partners hotels. Check the Transportation Schedule here.
Food & Beverage 
Lunch, morning and afternoon snacks will be provided to conference attendees during the event and within the conference area.
Our After Work: Drinks & Tapas will be hosted at the CCIB, within the conference area on Wednesday, October 2, starting at 18:30 pm. 
Don't miss out on this special evening!
Security
You will be issued a personalized Innovation Summit Barcelona badge upon registration. This ID badge is compulsory to gain access and facilitate your participation to the Schneider Electric Innovation Summit and must always be worn visibly when at the Innovation Summit. Be aware that security access controls will be in place at all entries.
Please leave all large luggage in your hotel room or with your hotel concierge. Do not bring your luggage to the Innovation Summit as you will not be permitted to enter with it. We suggest to not leave any valuable belongings like laptop or wallet, in the cloakroom.
When at the Innovation Summit, take the time to observe the safety evacuation routes displayed throughout the conference space & if required follow the evacuation procedures coordinated by the staff and/or authorities.
Locker/Cloakroom
A cloakroom, free of charge, will be available on site if you want to leave your belongings. Please note that only hand luggage not exceeding 55 x 40 x 20 cm (W x H x D) will be accepted.
We suggest to not leave any valuable belongings like laptop or wallet, in the cloakroom.
Visa
For information on entry and exit to Spain, please visit the Visa Requirements Page.  
You can request your visa invitation letter during the registration process. The hotel confirmation will be provided according to your check-in and check-out dates. If you need any help or have an urgent request for your visa application, please contact us at innovation-summit@se.com
Dress Code
The official dress code is Business Casual throughout the event.
Weather in Barcelona
Barcelona in October can be sunny and mild. 
The average temperature at this time of the year is between 18-22°. 
Please check the weather forecast ahead of your trip: 
https://www.accuweather.com/en/es/barcelona/307297/weather-forecast/307297
Foreign Currency Exchange
The currency is in Euro. There are several currency exchange offices in Barcelona. You may consult live exchange rates and access currency converter here.
Emergency
In case of an emergency, please dial 112.
For urgent medical services, dial 061.