row-start col-md-4 col-md-offset-4 row-end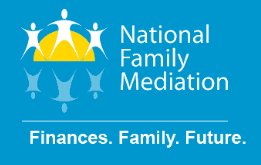 gradient-section row-start col-md-12 row-end


National Family Mediation is the largest provider of family mediation in England and Wales, and the only non-profit provider with national coverage.
NFM helps families in conflict, especially those divorcing or separating. Established in 1982, NFM was the founder of the concept and practice of family mediation, and its network of accredited services now delivers in over 500 locations. NFM is a founder member of the Family Mediation Council, the regulator of family mediation.
The charity supports legal professionals by managing the emotions and conflict surrounding divorce and separation, enabling them to focus on the legal issues that arise for their clients. NFM understands that mediation works best when it is supported by expert legal advice on the options that have been developed in mediation. By working in partnership with the legal profession, NFM delivers positive outcomes for families.
The charity's strapline: 'Finances. Family. Future' captures the offer made by the charity's unique approach to family mediation. As well as addressing all-important money and property issues, NFM mediators focus on the future wellbeing of all family members, especially the children. It means that NFM mediators work to provide lasting solutions for separated families whilst preserving family relationships, and manage the emotions and conflicts that arise during an often-tumultuous separation or divorce. Whatever the issues, NFM's expertise helps settle them.
NFM has a network of affiliated members, each of which is a not-for-profit family mediation provider. Collectively the charity delivers family mediation in over 500 locations across England and Wales, delivering some 16,000 mediations per year.
As the leading provider of family mediation training and accreditation, NFM organises numerous development courses that are open to legal professionals. In addition to providing full foundation courses for people wishing to become family mediators, they also include development programmes focusing on child-inclusive mediation, skills-based training, and providing refresher courses for those who have had a break from practising mediation.
By contributing, you will help National Family Mediation to provide:
Free sessions for children to have their voices heard in mediation
Fact sheets going direct to parents and grandparents experiencing divorce and related conflict issues
Provision of information videos shared through social media to help inform parents of the value of mediation
Development of training workshops for professionals to better support families they work with
Access to interpreters for families unable to effectively communicate issues in English.