row-start col-md-7 #top-section top-section #about-section no-pad-bottom-section
Why attend the event
Latin America & the Caribbean is home to some of the world's most vibrant renewable energy markets. The region has been significantly focused on hydropower, biofuels, solar, wind and biomass-based electricity, and pioneering initiatives to build an even greener future from hydrogen and offshore wind sources. Brazil and Mexico rank amongst the top ten global renewable energy markets, and several other countries across the region are well positioned to offer great Clean Growth trade and investment opportunities. Some of the strongest renewable capacity growth in the world in the coming years is expected in Latin America & the Caribbean. A report by Rystad Energy expects that the region's 49 gigawatts of renewable capacity will skyrocket to 123 GW by 2025 and that Uruguay will be a carbon sink by 2030. Auctions have been adopted throughout the region, giving way for some of the lowest prices and largest projects in the world, helping drive global ambition. 
Many LATAC Governments are taking action to address what should be considered a challenge and opportunity, developing long-term strategies, including Chile releasing a national hydrogen strategy in 2020, Colombia publishing its hydrogen roadmap in 2021, and Brazil, Uruguay, Bolivia, Trinidad & Tobago, and several others currently drafting their own plans. The LATAC region presents strategic advantages regarding availability of renewable energy sources to produce green and blue hydrogen. It is already one of the world's leading regions for renewable energy use and can play a major role in the international push for low-carbon hydrogen, due to its high potential to produce large volumes of competitive low-carbon hydrogen and export it to other global market. Additionally, we have seen strong leadership from the private sector in the region, where many projects are under development, including several gigawatt-scale projects.
H2LAC 2022 is an excellent opportunity to network with energy professionals, learn and discuss hydrogen trends influencing the region, and to meet the decision makers from governments and key players across the region. Find more about the event and the proposed agenda here. 
UK companies get a 20% off to attend the H2LAC 2022. 
row-end col-sm-12 col-md-5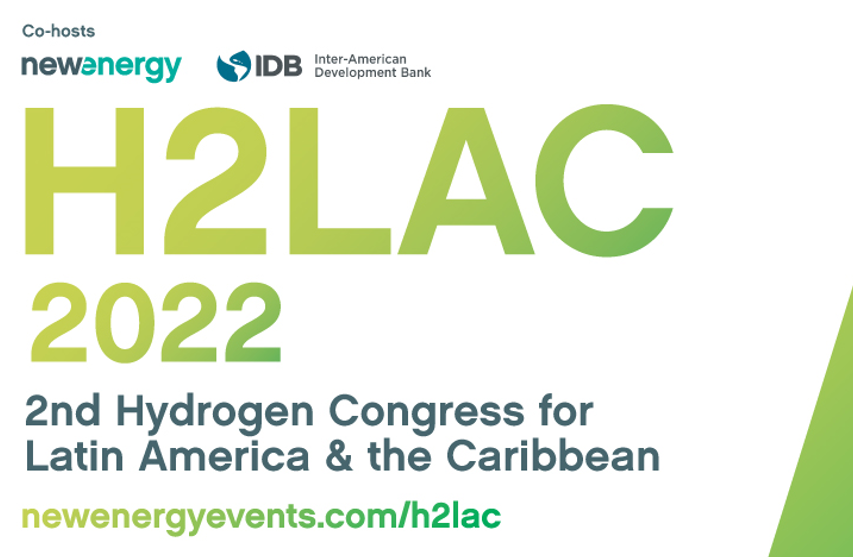 row-start col-xs-12 #speakers-section
About the conference 
The Hydrogen Congress for Latin America & the Caribbean (H2LAC) is the largest gathering of the rapidly emerging Hydrogen industry in Latin America and the Caribbean. Co-hosted by the Inter-American Development Bank (IDB), over 500 delegates including senior government officials from 15 countries in the region attended the inaugural event in 2021.  
For 2022, H2LAC is back in-person and in Cartagena, Colombia on October 4th-5th. The Department of International Trade in Latin America and Caribbean (DIT LATAC) is proud to be Strategic Partners for what will be the definitive hydrogen event of the year.  
There will be 80+ speakers across two days addressing the defining issues and identifying the gaps, from renewable production and certification, to project bankability and trailblazers decarbonizing hard-to-abate industries. Confirmed H2LAC speakers who will shine a light on what's driving the market include: 
Minister Claudio Huepe Minoletti, Minister of Energy, Chile 
Rodrigo Rodríguez Tornquist, Undersecretary of Knowledge for Development in the Secretariat of Strategic Affairs of the Presidency, Argentina 
Vice Minister Ronny Alberto Rodríguez Chaves, Vice Minister of Energy, Costa Rica 
Rosilena Lindo, National Undersecretary of Energy, Panama 
Dr. Vernon Paltoo, President, National Energy Corporation of Trinidad and Tobago Limited 
Roseane Medeiros, Executive Secretary of Industry | Secretary of Economic Development and Labor, Government of Ceará, Brazil 
Dr. Juan Manuel Rojas, President, Promigas 
Gonzalo Galindo, President, CEMEX Ventures  
Yeimy Báez, Vice President - Gas, Ecopetrol 
Paola Brunetto, Head of Hydrogen Business Unit, Enel Green Power 
Country Investment Spotlights 
Deep-dive country and region-specific "roadshows" gathering national leaders to showcase progress, programs, policies - and opportunities. 
Hinicio/New Energy Hydrogen Index for Latin America & the Caribbean 
On a country-by-country basis, what is the status of hydrogen policy and investment across LAC? Reflecting exhaustive polling and research, the 2022 Index provides a comprehensive picture of progress across the region.
row-start col-md-5 #top-section top-section #about-section no-pad-bottom-section
Partner
row-start col-xs-7 video-section center row-end
row-start col-xs-12 col-md-8 colour-section narrow-section
UK companies get a 20% off your event ticket to attend the H2LAC 2022.
row-end col-xs-12 col-md-4