row-start col-md-7 intro-section
About the event
Working in partnership with mental health charities, external thought leaders, and other organisations,  RBS is hosting a Mental Health Awareness conference on the evening of 17th May 2018. The theme of the conference is "Keeping the Conversation Going", and we'll encourage attendees to think about how they can give support to people around them and create a culture that facilitates open conversations about mental health. It falls in Mental Health Awareness Week (14th-20th May) in line with all the great work done across the UK to raise awareness.
On the evening we'll have sessions presented by RBS, CIPD, Headtorch and Prince's Trust Scotland, amongst others. There'll be plenty of opportunity to network with other attendees from a range of different backgrounds.
Registration and networking will start at 17:30, with the conference opening at 18:00. We look forward to your attendance at the event.
Dress Code
There is no dress code, so please come in what you will be most comfortable in.


Contacts
Please direct all enquires to: RBSEvents
row-start col-md-4 map-section
The event will be held at:
RBS Gogarburn Conference Centre - Edinburgh
Gogarburn
175 Glasgow Road
Edinburgh
EH12 9BH

Tel: 0131 626 9000
Directions:
By plane
The nearest airport is Edinburgh International. The 300 Bus Service regularly travels between the Airport and the main Gogarburn building, the drop-off point is the staff restaurant end (East Entrance). The Conference centre is a 10 minute walk from the drop-off point.
By train
The nearest train stations are Edinburgh Park, Edinburgh Gateway and South Gyle. If you are travelling by train please use the following services. The drop-off point is the staff restaurant end (East entrance) of the main Gogarburn building. 
By tram
Gogarburn has its own stop on the Edinburgh Tram network, connecting to the local park & ride, airport and the city. The tram stop is a 15 minute walk from the Conference Centre.
By car
If you require a space please email RBSEvents  indicating the event you're attending and your car registration details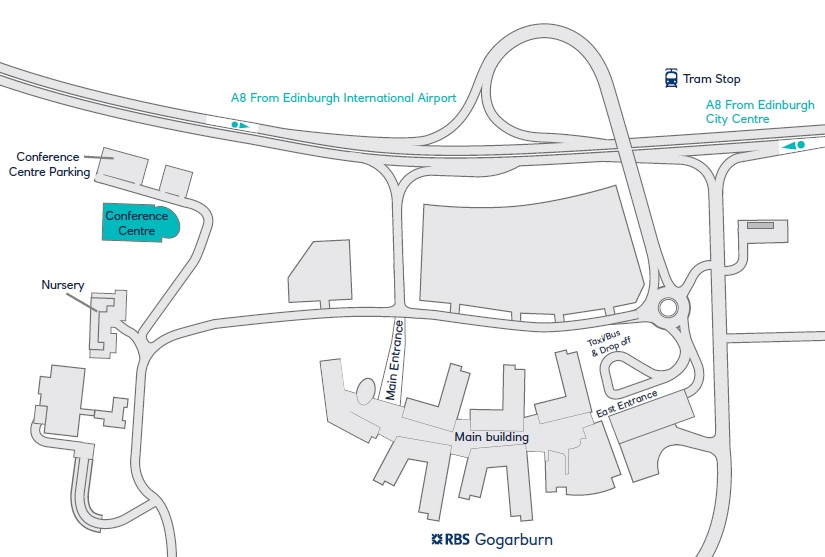 row-start col-xs-12 row-end register-section colour-section
PLEASE NOTE REGISTRATION WILL CLOSE AT 17:00 WEDNESDAY 16th MAY