#welcome-section row-start col-xs-12 heading row-end center standard-section
Welcome
row-end col-md-5 standard-section content-section left-column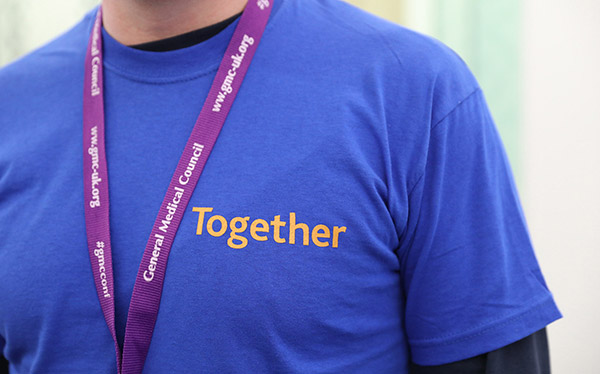 row-end col-md-7 right-column
On 3rd April we were joined by delegates for a day of interactive workshops, discussion and debate with speakers including doctors, international experts, educators, NHS staff and more, at a time when the medical profession at the UK's healthcare systems as a whole face some daunting and difficult challenges.
The theme for our 5th annual conference was Supporting a profession under pressure in delivering good care. We discussed various topics together, including:
Tackling unprofessional behaviours
Human factors in patient safety
What to do when you have concerns about patient safety
Health and disability in medical education
An exclusive chance to hear from the GMC's new Chair, Dame Clare Marx
You can watch the morning and afternoon sessions on our YouTube channel, which includes the panel discussion and talks from Professor Megan Reitz, Dame Clare Marx and Charlie Massey.
Please note that this event has now taken place.
#agenda-section row-start col-xs-12 heading row-end left standard-section agenda-section
Agenda
This agenda is a living document which serves as an indication of the final programme and is therefore subject to change.
col-xs-12 row-end standard-section agenda-section content-section
Education quality assurance review
The session enabled engaging discussion not just about data, but about our quality assurance processes too. We hope that delegates were interested to hear about the work we're doing to develop our processes and reports to make them more accessible and relevant in the future.
For further reading, we would encourage people to explore our ever evolving dashboards: GMC Data Explorer and the National Training Survey reporting tool; or contact us at events@gmc-uk.org with any questions about our data or our session.
Differential attainment, building fair training pathways
The session generated a lot of interesting ideas which we'll continue to discuss with our stakeholders to consider how these can be reflected in our future work programme.
For further information about our work to address differential attainment in medical education and training visit www.gmc-uk.org/differentials and for outcomes data take a look at the National Training Survey reporting tool by selecting the 'Progression Reports' tab in the top left hand corner.
If you have any questions, or ideas and examples of interventions you are developing please contact us at quality@gmc-uk.org.
Speaking up, speaking out
These workshops were well attended, the session started with an introduction from Dr Henrietta Hughes, National Guardian for the NHS, this produced great discussion and ideas on how people could promote speaking up and listening well cultures within their organisation. The ideas and the learning from the sessions will be used to inform the development of resources, which we'll publish on our website later this year.
If you have any suggestions or examples of good practice in speaking up, or you'd like to be featured on our Speaking Up hub, please get in touch with
Emily Phillips
.
Medical Licensing Assessment – assessing professionalism
How should the Medical Licensing Assessment assess the professionalism of new doctors? We're reflecting on the feedback we received during the workshop and looking at how we can incorporate it into innovative ways of assessing professionalism in high stakes clinical examinations. Read the research we commissioned on assessing professionalism: Best Practice in the Assessment of Competence: A Literature Review.
For questions on the MLA, contact us at mla@gmc-uk.org or find out more atwww.gmc-uk.org/mla.
Patient feedback for revalidation
In this workshop, delegates heard about our patient feedback requirements and the work we've done to revise them to make them work better for doctors and their patients, ahead of our consultation on the changes which launches at the end of April.
To take part in our consultation and give us your views, go to www.gmc-uk.org/feedbackyourway from 30 April to 23 July 2019. Contact us at patientfeedback@gmc-uk.org if you need more information.
Supporting leaders to keep patients safe
In this session we had some engaging discussions around the findings of Dr Suzanne Shale's research. This research will be published on our website in the coming weeks. The contribution from our workshop attendees is helping us to develop the next steps in our journey to support doctors in leadership positions.
If you would like to be alerted to the future publication of Dr Shale's research, please email events@gmc-uk.org.
Emerging Concerns Protocol
Attendees at the session discussed the benefits of the Emerging Concerns Protocol, which allows regulators to share patient safety concerns early, and proactively supports them to collaborate to safeguard patients and the profession from harm.
For more information about the protocol, which was agreed by nine regulators in 2018, take a look at ablog written by Ian McNeil, Head of our Regional Liaison Service, w hich explains how the protocol is working across England.
Culture change and mitigating the risk of unprofessional behaviours in the NHS
Attendees at this workshop heard more about a pilot programme, announced at the conference, to give doctors training in tackling unprofessional behaviours from colleagues which can affect patient safety and outcomes.
The new - three hour, face to face - training is being piloted at a small number of organisations across the UK in 2019. To find out more go to www.gmc-uk.org/respectprotects or if you have any questions about the pilot, including how to get involved, please contact our regional liaison service at rls@gmc-uk.org.
Health and disability in medical education
This workshop focused on the global perspective of disability in medicine. Attendees heard powerful contributions from Professor Lisa Iezzoni, Harvard Medical School; Dr Dinesh Palipana, Gold Coast University Hospital and Doctors with Disabilities Australia; and Dr Kelly Lockwood, Disabled Doctors Network. The speakers discussed the importance of the medical profession setting the standard in leading inclusive education, training, and employment.
If you have any questions about our work in this area please email events@gmc-uk.org; or if you want to read more about some of the issues discussed in the session, take a look at:
Enhancing medical student professionalism
In this workshop we heard from Sara Memon and Abdul-Rahman Abbas, two third year medical students from UCL Medical School, who presented their shortlisted session from the annual professionalism competition organised by the General Medical Council and the Medical Schools Council. Based on the topic of reflective practice, their session was an interactive board game simulating a medical student's experiences and decision-making when on a clinical placement.
You can find the materials for Sara's and Abdul-Rahman's session on our website. For more information, read the joint GMC / MSC professionalism guidance for medical students, Achieving good medical practice, and the recently published guidance on reflection.
Human factors
In this session, we heard from Dr Niall Downey, who works as both an NHS doctor and a pilot for Aer Lingus; and Captain Rob De Martino, a training standards captain who works for British Airways. Dr Downey discussed the discussed the differences between human factors in healthcare and aviation, while Captain De Martino talked about how human factors can support a just culture in aviation.
You can find out more about our work to support a profession under pressure, including introducing human factors training for all of our fitness to practise decision makers, case examiners and clinical experts at www.gmc-uk.org/sapup.
#speakers-section row-start col-xs-12 heading row-end center standard-section speakers-section
Speakers
col-xs-12 row-end standard-section page-content-section speakers-section content-section
row-end col-xs-12 speakers
Saffron Cordery [More Info]
Deputy Chief Executive
NHS Providers
Dr Huw Jones [More Info]
Board of Community Health Councils
Victoria Macdonald [More Info]
Conference Chair
Dr Folarin Majekodunmi [More Info]
Chair
National Association for Patient Participation (NAPP)
Dame Clare Marx [More Info]
Chair
General Medical Council
Charlie Massey [More Info]
Chief Executive and Registrar
General Medical Council
Megan Reitz [More Info]
Keynote speaker
Dr Christopher Turner [More Info]
Emergency Medicine Consultant
University Hospitals Coventry and Warwickshire, NHS
#gallery-section row-start col-xs-12 heading row-end center standard-section gallery-section
Gallery - photos from our annual conference in 2018
#sponsors-section row-start col-xs-12 heading row-end left standard-section sponsors-section
Sponsors
Our Conference Partner this year is Educational Commission For Foreign Medical Graduates (ECFMG).
ECFMG and FAIMER are private, non-profit organizations based in Philadelphia in the United States. In partnership with each other and with other organizations around the world, ECFMG and FAIMER work to promote quality medical education and health care worldwide. ECFMG and FAIMER are leading experts on the world's medical education systems and their graduates, the authenticity of physician credentials, the assessment of physicians, and research on physician migration and U.S. physician workforce issues. ECFMG and FAIMER offer programs and resources that serve global communities of medical educators and regulators; physicians and medical students; and those investigating issues in medical education, assessment, and health workforce planning. Learn more at www.ecfmg.org and www.faimer.org . 
#location-section row-start col-xs-12 heading row-end center standard-section location-section
Location
col-xs-12 row-end standard-section page-content-section location-section content-section
Our fifth annual conference was held at 155 Bishopsgate, London. 155 Bishopsgate is a large conference centre located a short walk from Liverpool Street Station, and within walking distance of several tube stations. Follow this link for detailed information on directions (PDF), or see the map below. For more information about step-free access to the venue, please follow this link.
#map-section row-start row-end center standard-section map-section