Affordable Housing
"Investment in Affordable Housing in Cities – Challenges and Solutions"
Focus
The aim of the workshop is to share the first deliveries of the EU Urban Partnership on Affordable Housing and explore the Rotterdam Zuid area as a concrete "living lab" to showcase how cities deal with housing needs of their citizens. Using the interactive format of a "world café" participants will have to opportunity to directly exchange with members of the partnership on a number of issues.
During the workshop and the field visit, at Afrikaanderplein, participants will experience how the social housing corporations and the private housing corporations and the City of Rotterdam work together to find solutions to this challenge. A number of important first steps have already been taken in recent years to create sustainable integrated urban development, however, we still have a long way to go.
In Rotterdam, we will look into ways of how:
to keep the existing housing in the pool of effective housing supply, and how
to ensure its maintenance and renovation;
to entend the SGEI definition;
to cope with the different challenges within social housing;
to find and blend different financial instruments; and
to share knowledge and best practices to help cities become resilient.

Draft programme
10:30 - 11:00:
Welcome coffee
11:00 - 11:05:
Kick-off by moderator (tbc), Welcome word of the coordinators, Elena Szolgayovà, Slovakia and Michaela Kauer, City of Vienna
11:05 - 11:10:
Welcome word by political representative of Rotterdam Zuid area
11:10 - 11:20:
Short presentation of the state of play of the Housing Partnership, Orna Rosenfeld, housing expert (tbc)
11:20 - 11:30:
Question and answers round
11.30 - 11:40:
Introduction to National Programme for Rotterdam Zuid (NPRZ) speaker tbc
12:00 - 13:15:

Guided site visit and return to venue
13:30 - 14:15:

Lunch
14:15 - 14:25:
Introduction into "world café" format, ,resentation of themes and facilitators (all tbc):


State Aid and Housing: Sebastien Garnier (AEDES);

Toolkit and Guidance "Affordable Housing Policies", Sorcha Edwards (Housing Europe);

Corporate Social Responsibilty in Housing Barbara Steenbergen, (IUT);

Challenges of renovation projects in multi-use buildings, Elena Szolgayova, Slovak Ministry of Housing; 
Use of EIB funding for Affordable Housing, N.N, possibly Poznan or EIB.

14:25 - 14.50:
First round of world café


Co-management, co-design and rent stabilization, Barbara Steenbergen (IUT);

Short-term rental agencies effects to affordable housing, N.N, possibly Lisbon or Amsterdam;

Conditions for Long-term public-investment of cities, Michaela Kauer, City of Vienna;
Market failures and urban housing policies, Orna Rosenfeld, SciencePo Paris;
Spatial planning, building ground, land use, N.N, Rotterdam Zuid or Vienna.

14:50 - 15.00:
Break, switching to new table
15:00 - 15:25:
Second round of world café
15:30 - 16:00:
Reports from round tables

16:00:
Closure and leave to the ship
Location
LCC 't Klooster
: Afrikaanderplein 7, Rotterdam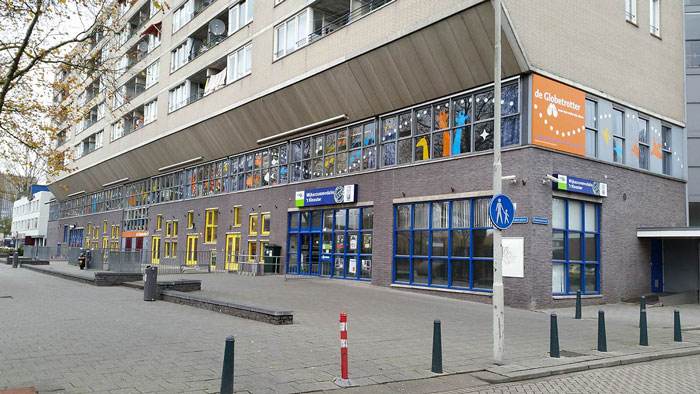 In terms of scope and intensity, the socio-economic problem is greater in Rotterdam South area than anywhere else in the Netherlands. In order to achieve breakthroughs and to ensure the residents of Rotterdam Zuid are in a stronger position, parties have joined forces by designing the National Programme for Rotterdam Zuid (NPRZ). The programme focuses on three pillars: education, work and housing. Private housing stock is a focus of particular attention within the housing.
The challenge in Rotterdam South area is to ensure that the provided affordable housing remains in reach of those in housing need locally and at the same time invest in restructuring the private housing reserve to make the area socially and economically resilient. At the same time, the new Housing Act has, in recent years, heavily narrowed down the possibilities of housing corporations to act. Moreover, in areas such as Rotterdam Zuid, corporations are also faced with other priorities such as making their housing stock energy efficient.
Background information on the Partnership of Affordable Housing
Members of the Partnership
Cities: Vienna (Coordinator), Lisbon, Poznan, Riga, Scottish Cities Alliance;
Member States: Slovakia (Coordinator), Latvia, Luxembourg, The Netherlands, Slovenia, Czech Republic and Sweden;
Stakeholders: Association of Housing Corporations (AEDES), Housing Europe, International Union of Tenants, Eurocities, European Investment Bank (EIB)
European Commission: DG REGIO, DG ENER, DG EMPL,

The overall aim of the Housing Partnership is to create better legal and financial conditions for EU cities who need to invest in new, renewed, affordable housing for their populations on a broad scale. Through the orientation work of the Partnership in 2016, three priority areas were identified, which led to a division of work into three sub groups. The sub groups are covering the following themes:
State Aid and social housing: state aid, competition law, definition of social housing under Service of General Economic Interest (SGEI) rules, VAT issues.
Finance & Funding: investments and instruments, loans, "golden rule", European semester, innovative funding, analysis of obstacles and good practice solutions in funding and financing of affordable housing.
General Housing Policy: 1) land use, building ground, spatial planning, renovation, energy efficiency, anti-speculation, 2) security of tenure; co-design, rent stabilisation; support for vulnerable groups.

Please
click here
to access the background paper and
here
to access all documents