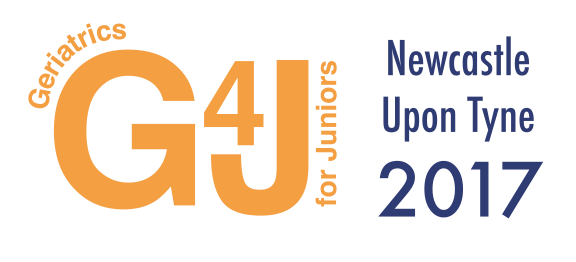 G4J 2017
4th November 2017
Newcastle
What is it?
G4J is a one-day conference, designed for Foundation Doctors, Core Medical and GP Trainees and Specialist Nurse Practioners. It aims to deliver relevant and useful clinical updates in all the main sub-specialties of Geriatric Medicine, in order to improve the standard of care for older patients.
What's in it for you?
A full day of relevant and interesting educational sessions related to Geriatric Medicine

Practical and useful updates for your day-to-day practice on the hospital medical wards

Session on career choices, CV building, applying to specialty, and the truth about life as a registrar

A certificate of attendance for your e-portfolio
What will be covered?
Geriatrics in the Emergency Department

The Ageing Body and ITU

Falls

Delirium

Polypharmacy

The Ideal Hospital for Older Patients

Tips for the transition to being a Med Reg and onto Consultant

Dementia

Top Tips for Good Palliative Care

Perioperative Care of Older Patients

Neurology Casebook

Being the 'Med Reg'

Life as a Geriatrics Trainee

A new session specifically for Specialist Nurse Practioners
The programme will be available soon. 
There will also be a 'World Cafe' of informal discussions regarding career options, applying to specialty, and tips for improving your clinical practice within the various sub-specialty fields.
'CotE Champions' Poster Competition
We want to hear about Audits and Quality Improvement Projects, done by junior doctors, focusing on issues relating to Geriatric Medicine and the care of older patients.
Successful authors will have their poster displayed at the conference, with the top projects receiving the 'Kate Granger Prize' for dedication to improving standards of care for older patients. Full details and entry at http://aeme.org.uk/g4j17-posters/ 
How much will it cost?
Only £50, for an incredible day of talks from some fantastic speakers, with lunch and tea/coffee included.
Any more questions?
Join us on Twitter (@ElderlyMedEd) or contact us via aeme.org.uk