Showcase your exhibition content to millions
We have a fantastic opportunity for UK-based companies or individuals to appear in our exhibition at the UK Pavilion. Visitors will be taken through multiple illuminating displays of written content, illustrations, visuals and an augmented reality experience that tells the story of UK innovation in AI and Space with link to UN Sustainability Development Goals.
The exhibition will tell the story about the UK from 1851 through to 2050. ​The experience will be enhanced through the visitors using their mobile devices to access additional information, play video content and donate a word.
Find out more about the UK Pavilion
About the UK Pavilion Exhibition
The exhibition will cover the UK's history, key influencers, how we collaborate with other nations, and the future innovations in areas such as AI, Space, Robotics, education and R&D.
We also want to profile the UK world-class products and services, and touring British exhibitions, that would be feature on the UK Pavilion.
Audience for the visitor experience will primarily be the general public (families, students - 6-18, 18+, tourists/travellers) but will also include global business leaders, senior government officials, celebrities and VIPs.
row-end col-sm-12 col-md-5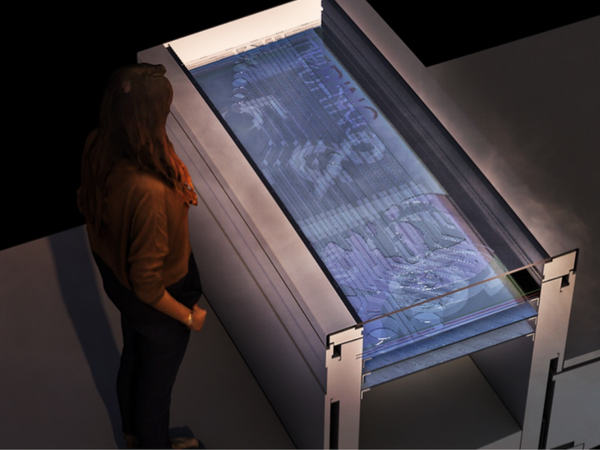 Specific exhibition requirements
The exhibition will sit in a number of vitrines (see image) which are display cabinets at hip height. Visitors are looking through glass into the vitrines as they walk up and down the maze.
We are looking for contributions in the following formats that align with our themes:
Case study and imagery
Video content
Audio recordings
AR asset
Physical asset (maximum size allowed is 2m (length) x0.8m (width) x1m (drop)
Please take into account regional requirements as well. The exhibition will be outside with warm temperatures (up to 50ºC) and the exhibition will be in English and Arabic.
row-start col-xs-12 colour-section row-end
If you are interested in this opportunity we would like to find out a bit more about what your company has to offer. Deadline for initial interest is 29 November 2019.
We are looking for the following information in the expression of interest form:
Company information
Which part of the exhibition
Outline of the asset being offered and story to accompany it.
Size of asset (file size, physical size etc)
Any copyright, logistics and insurance information (we ask for any physical assets to be insured by the company)
If providing a temporary exhibition idea please provide install and decommissioning times.
Contact details to follow up
How we will use your contributions
The UK at Expo team within DIT will review the contributions at our industry Content Board for the project. We will also look at opportunities to showcase shortlisted exhibition content in our wider communications and events programme.