row-start col-md-7 #top-section top-section #about-section no-pad-bottom-section
The Midlands Engine Export Champions Tour 2019 is taking place in locations across the region during 2019. Covering a wide range of topics, you are sure to find an event to suit your business needs.

Our Midlands Engine Export Champions have committed to share their wealth of experience and knowledge to advise others, and in in this series of free events you are invited to learn the secrets to their success.

Fast Track Exporting

Join our expert, Stuart Garner from Norton Motorcycles, who will explain how this iconic British brand have built their dealer/distributor network, how important that brand is, and how to access finance.

This event will start with lunch at Donington Hall and include a factory tour.

Stuart Garner

Norton Motorcycles owner, Stuart Garner, is the man who took a chance on being able to revive Britain's most sporting motorcycle brand as a series production entity – and the gamble paid off.

Since his purchase of the historic British brand in October 2008, Garner has invested many long hours into putting the born-again Norton Motorcycles firmly back on the map, so far building 2,000 motorcycles delivered to customers around the world. He relocated to the current 45,000 square foot factory at Donnington Hall estate, converting the property into a 14-room boutique hotel and 200-person banqueting facility, adding a useful revenue stream to help capitalize the flourishing motorcycle business.

Stuart wrote himself into the history books in 2009 when he set the land speed record for a rotary powered motorcycle on a Norton at 173 mph for the flying mile!

About the Export Champions

Our Export Champions represent a range of sectors and all will be working with the Department for International Trade to complement our services, generously giving their time to motivate and assist other businesses on their export journeys. They are leading by example as they continue to win new international business and reach out to new markets themselves. For details on other events taking place during 2019, please see here.

Register your interest:

Register your interest in attending this free event today. We expect interest to be high, so sign up soon to avoid disappointment. Please note that your place is not guaranteed until you receive confirmation from us.

For any other enquiries contact the Department for International Trade East Midlands at events@tradeEM.co.uk or call 0345 052 4001.


Register


Please note: these events are not open to all. The Export Champions are keen to share their expertise with other business leaders, but do not want intermediaries, competitors or potential suppliers taking up spaces. As such, attendee lists will be shared and approved by each Export Champion in advance.




row-end col-sm-12 col-md-5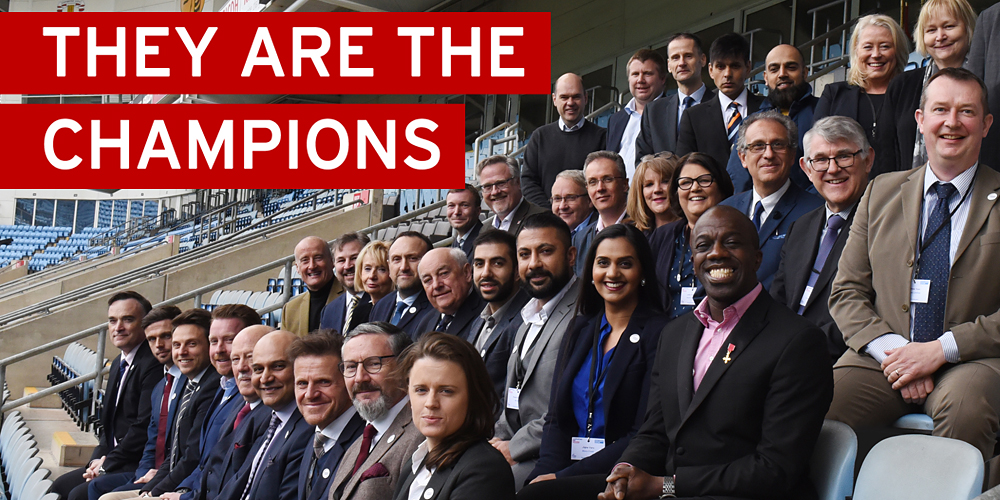 row-end col-sm-12 col-md-5
Event details:

Venue Address: Donington Hall
Castle Donington,
Derbyshire,
DE74 2SG

Date: 18 September 2019
Time: 13:00 - 16:00
Admission: Free


Organised by:

The Midlands Engine is the heartbeat of Britain's economy Built on a strong advanced manufacturing base and enhanced by a range of sectoral strengths, the Midlands Engine is perfectly positioned to take advantage of economic growth, productivity and skills opportunities.
We will improve the economy of the Midlands and the UK, deliver an enhanced quality of life for our citizens and communities and become a globally recognised driver of the economy. We will create a thriving environment for businesses to flourish.