Registrations are now closed. Thank you for your interest.
28 - 29 November 2023, across London.
The Uzbek-British Trade and Industry Council (UBTIC) is an annual forum designed to connect British businesses with their Uzbek counterparts and leading policy makers.
This year the event will take place across London, with sectoral sessions focussed on (i) IPO and Eurobonds, (ii) Infrastructure, (iii) Financial & Professional Services, (iv) Investment and Trade potential of Uzbekistan, (v) Fintech and IT opportunities of Uzbekistan, followed by Business Forum.
These workshops will present an overview of Uzbekistan's strategy for privatisation of the country's foremost companies, along with London Stock Exchange's capabilities for IPOs and Eurobond issuances. They will explore the major PPP and infrastructure schemes, as well as business opportunities in IT, Agriculture, and Textiles. Furthermore, the sessions will provide insight into the broad business climate and the importance of PR and communication in these sectors.
Why you should attend?
Gain knowledge on recent trends in capital markets, innovative solutions for businesses, and expert opinions on topics of interest.

Deepen your understanding of Uzbekistan's business environment, including policies, reforms, developmental plans, challenges, and upcoming major projects, through insights from the government of Uzbekistan and business leaders.

Establish connections and network with business leaders, experts, and policy and decision makers from Uzbekistan and the UK.
Who should attend?
British and Uzbek businesses operating in or interested in the following sectors: Financial, Professional & Business Services; Infrastructure & Construction; Education; Fintech and IT; Agriculture; Textile and DCTS.
Details
Delegates are responsible for their own costs of flights and accommodation.

The closing date for registration is 24th of November 2023.

This event is in-person only.
Agenda
Please note that the timings and details subject to change.
28 November 2023, Tuesday
UK-UZBEKISTAN BUSINESS FORUM NETWORKING
Venue: Institute of Directors, 116 Pall Mall, St James's, London SW1Y 5ED
Time: 09:00 – 11:00
TRADE AND INVESTMENT: TEXTILES AND AGRICULTURE
In partnership with Uzbekistan Business Consultants
Venue: Embassy of Uzbekistan in London Address: 41 Holland Park, London W11 3RP
Time: 12:00 (TBC)
29 November 2023, Wednesday
INITIAL PUBLIC OFFERINGS AND EUROBONDS (by invitation)
In partnership with London Stock Exchange Group
Venue: London Stock Exchange Address: 10 Paternoster Square, London, EC4M 7LS
Time: 09:30 - 13:30
TRANSPORT INFRASTRUCTURE AND URBAN DEVELOPMENT
In partnership with Arup
Venue: Arup London Office, Address: 8 Fitzroy St, London W1T 4BJ
Time: 14:00 - 17:00
DIGITAL TECHNOLOGIES AND FINTECH
In partnership with IT Park Uzbekistan
Venue: Embassy of Uzbekistan in London Address: 41 Holland Park, London W11 3RP
Time: 17:30 - 20:30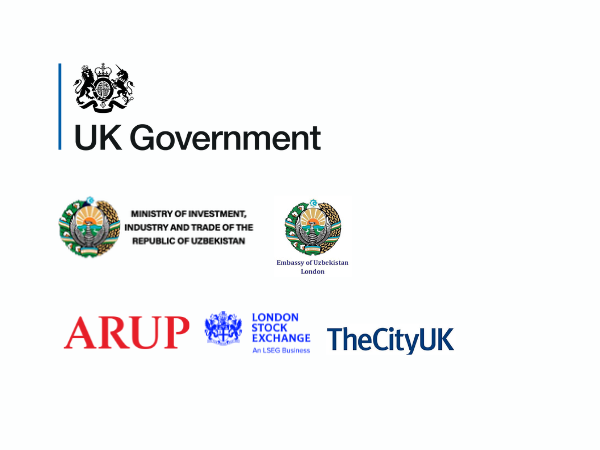 row-start col-xs-12 colour-section row-end
Keynote speakers
More names to be announced soon.
row-start col-xs-12 col-8 colour-section narrow-section
Register your interest now to attend the event.
This event is your opportunity to connect in-person with some of the leading policymakers and business leaders from Uzbekistan.
The closing date for registration is 24th of November 2023.