row-start col-md-7 #top-section top-section new-section
About the event
The British Society for Oral and Dental Research (BSODR) was formed to advance research and increase knowledge for the improvement of oral health in the United Kingdom.

Our primary objectives are: 
To support and represent the oral health research community in the UK
To encourage junior workers to become involved in oral and dental research
To facilitate the dissemination and application of research findings relating to oral health and the interactions between oral and systemic health
The British Society for Oral and Dental Research conference 2019 is being hosted by the School of Dentistry at the University of Leeds. The conference will officially open at 14:00 on Tuesday 3rd September and close at 16:00 on Thursday 5th September 2019.
row-end col-sm-12 col-md-5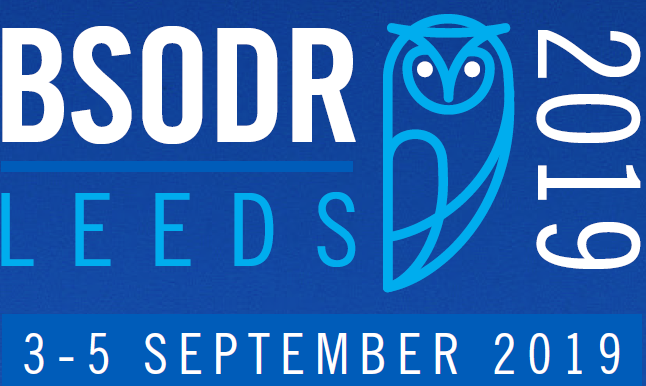 row-start col-xs-12 colour-section video-section center row-end
Registration
For information how to get to the University of Leeds, accommodation, sessions and the social programme, please click here to download the joining instructions. A printed programme will be given to you upon registration, however please click here to download a pdf version. 
The abstract deadline has now passed. Any requests for abstract changes or submissions will no longer be accepted with immediate effect. Any emails requesting as such will not be responded to. 
We have a variety of different categories of registration, including BSODR member rates and non-member rates.
Additionally, we are offering delegates the option to register to attend just one day of the conference. 
When registering to attend the conference, delegates will have the option to book accommodation at the
Storm Jameson Court, Halls of Residence located on campus at the University of Leeds. 
row-start col-md-7 sponsor-section
Sponsors
More than 250 delegates are expected to attend the British Society for Oral and Dental Research Conference 2019. Delegates will include senior and early career researchers from the dental research community along with research students, keynote speakers and industrial sponsors. 

There are a range of sponsorship opportunities available for this conference, all providing an excellent opportunity to have your brand recognised among leading figures in the Oral and Dental Research sector. 

The conference features:

A Welcome Reception
Three days of scientific sessions
Special interest scientific group meetings
An Early Career Researchers' Breakfast
Scientific prize competitions
Trade exhibition
Conference Dinner
BSODR annual business meeting


col-sm-12 col-md-5 top-80 row-end