row-start col-xs-12 video-section center row-end
row-start col-xs-12 row-end colour-section
Be part of the UK at Expo Events Programme
Experience the World's Greatest Show of human brilliance and achievement
Join some of the world's top business and thought leaders in open discussion about the issues facing your industry and our time.
Be part of the movement to address global challenges and create lasting benefits for generations to come.
Build new partnerships and connections to enhance your perspective of what is possible and grow your business for the future.
Be inspired by the journey of innovation and discovery in our artificial intelligence and space inspired UK Pavilion, showcasing leading British expertise.
Join the UK at Expo 2020 Dubai
Expo 2020 Dubai presents the UK to the world in one place, and creates the opportunity to drive future partnerships. It provides a platform for us to communicate directly with millions of people and showcase the UK's strengths through business, culture, tourism and education. The events will be themed around breakthrough moments, each of which will explore some big questions about how the future will look:
October 2021
November 2021
How we will create
How we will advance
How we will travel
January 2022
How we will live
How we will thrive
February 2022
March 2022
The breakthrough moments will feature engaging debates, opportunities for learning and showcasing as well as networking receptions and smaller one-to-one meetings.
We will hear from speakers, celebrities, innovators and industry leaders, all of whom will create a space of possibility to encourage new ideas, perspectives and partnerships, as well as inspire a collective call to action.
This is an opportunity to show the world what the UK has to offer, to celebrate our artistic and cultural identity and use our uniquely innovative spirit to contribute to some of the biggest challenges the world now faces.
Together we are Innovating for a Shared Future. Join Us.
row-start col-md-4 colour-section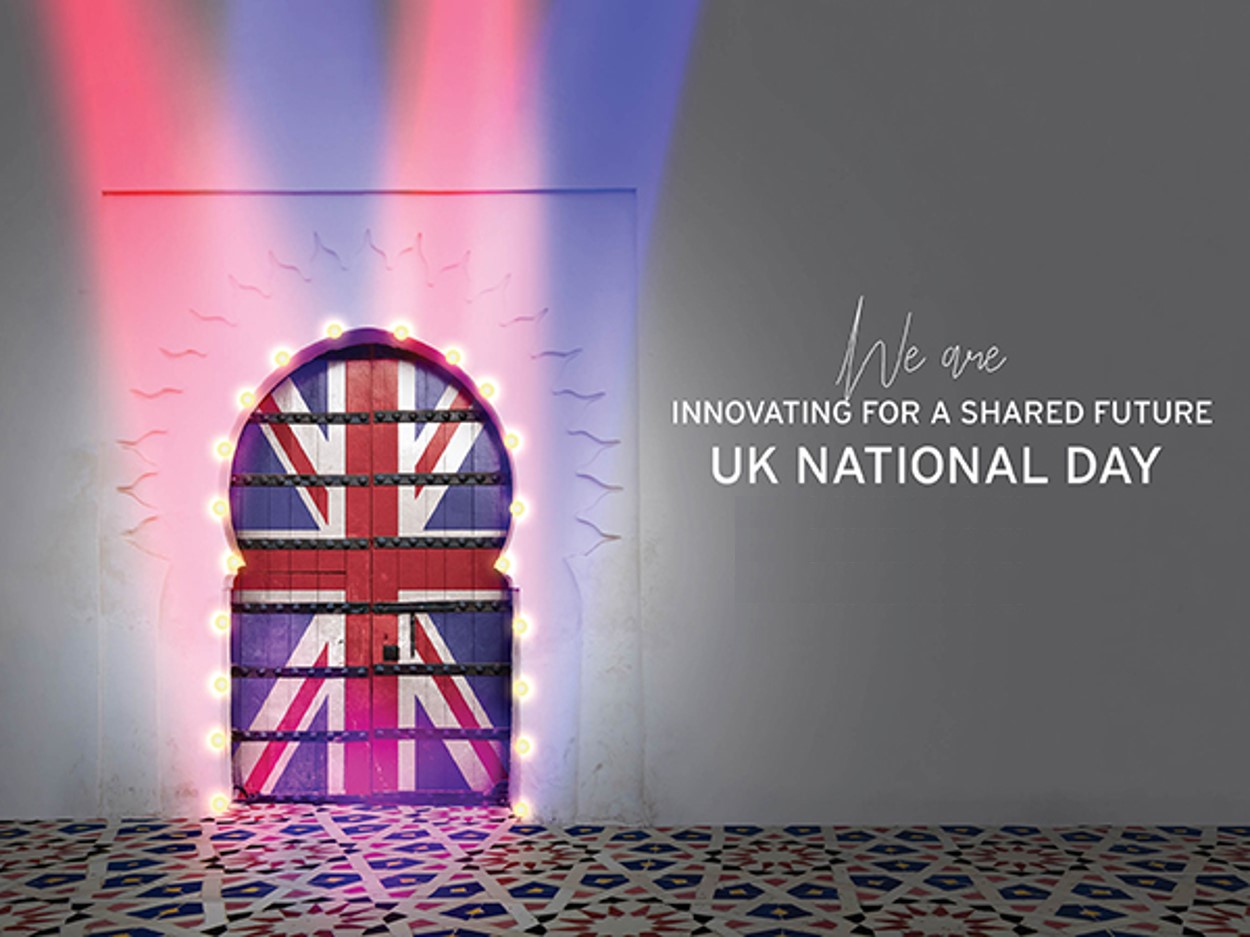 row-end col-md-7 colour-section
UK National Day
On 10 February 2022, UK National Day celebrations will take place. For 24 hours, the United Kingdom will take over the wider Expo 2020 Dubai site and deliver a massive celebration of the very best of British culture and creativity with a celebrity-filled day of dance, music and performance. The UK Pavilion will be the epicentre of National Day activities, serving quintessentially British food and hosting a star-studded array of talent. Expo 2020 Dubai provides an ideal platform to showcase the best of British innovation, British creativity and British culture to the world.
See you at UK National Day, 10 February 2022.