row-start col-md-4 colour-section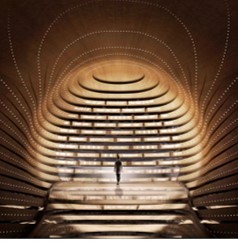 row-end col-md-7 colour-section
Do you sing or play an instrument?
We want your contribution
Perform a pre-composed pieces of music and become part of our shared global sound that will be played on the UK Pavilion - an immersive audio experience inside the Choral Space. 
 
Whatever style you sing or whichever instrument you play, we want your contribution. From bongos to bagpipes, we're asking people to play or even hum a few notes that will become part of a larger piece of music for all visitors to enjoy during the 6 month-long permanent exhibition at the UK's participation at Expo 2020 Dubai. 
Submissions by 20 November 2020.
row-start col-xs-12 row-end
UK at Expo 2020 Dubai COVID-19 Update
Expo 2020 Dubai will now take place from 1 October 2021 to 31 March 2022 after BIE Member States swiftly and collectively voted to support the postponement of the Expo. 
 
The UK voted in favour of the postponement and we believe that this decision is the right and responsible one in these unprecedented times. 
 
We are committed to the success of Expo 2020 Dubai and continue to prepare for delivery of the UK's participation.
 
The UK at Expo 2020 Dubai Project Team
row-start col-xs-12 video-section no-pad-top-section row-end
row-start col-xs-12 row-end
The UK is proud to deliver a programme of activity across business, culture, tourism and education. This will take place over six months between 01 October 2021 and 31 March 2022 and will feature a host of thought leading conversations, collaborations and showcases. Our mission is to educate and inspire us all to work together to create a better world.
row-start col-md-7 #top-section top-section new-section
The UK is one of 190 nations participating in Expo 2020 Dubai. The UK Pavilion will be the centrepiece of our presence, alongside a six-month events programme at the UK Pavilion and beyond. Expo 2020 Dubai provides an opportunity to connect with people directly on the UK Pavilion in Dubai, and virtually throughout the world. 
UK presence at Expo 2020 Dubai will demonstrate how the UK economy is at the forefront of innovation, showcasing the UK's strengths in sectors such as artificial intelligence, machine learning and space. Expo 2020 Dubai will facilitate collaboration and partnership between the UK and other participating nations, creating solutions to global challenges. 
The UK's participation in Expo 2020 Dubai will be delivered through a one-HM Government approach, led by the Department for International Trade, with support from the GREAT Campaign and six other Government Departments.
row-end col-sm-12 col-md-5
row-start col-xs-12 row-end
Innovating for a Shared Future
The UK's participation theme for Expo 2020 Dubai is 'Innovating for a Shared Future'.
The UK is a land of opportunity. For thousands of years, we have been a nation of explorers and creators. Innovation lies at the very heart of British culture. The UK has a remarkable history of innovations that have changed our world, from the world wide web to artificial intelligence and space exploration.
The UK has a rich heritage, with strong values and a welcoming environment. We embrace other cultures, quickly absorbing new foods and traditions. We have always thrived on the exchange of ideas, open to different approaches and new collaborations.
The UK is the home of creativity, entrepreneurship and science. We are a land of early adopters, where people come to realise new concepts. The UK is renowned for nurturing talent, helping to create world leading innovators and thinkers.
The UK shares its talent and expertise with other nations to tackle global challenges. UK inventions like the steam train and the telephone have given the world the ability to travel, trade and communicate internationally, connecting minds and people for hundreds of years.
The future of humanity depends on us working together as we develop solutions to complex global problems, discover new frontiers and travel to new horizons, whether it be in outer space or virtual worlds. Impressive British breakthroughs across multiple industries are being discovered every day. We are committed to working together to share in tomorrow's solutions.