row-start col-xs-12 video-section center row-end
row-start col-xs-12 colour-section row-end
Do you want to showcase your world-class content to millions?
We have a fantastic opportunity for UK-based companies or individuals to appear in our programme of activity at Expo 2020 Dubai, with 25 million visits expected, 70% of which will be international. Audiences will include business leaders, senior government officials, tourists, students and families. 
We will be promoting UK excellence through activity such as:
Communications and marketing
row-start col-xs-12 row-end
UK Pavilion
The inspiration for the UK Pavilion comes from one of Stephen Hawking's final projects, 'Breakthrough Message'. It invited people worldwide to consider what message we would communicate to express ourselves as a planet should we one day encounter other advanced civilisations in space. The UK Pavilion will allow people from across the world to contribute to a collective message and showcases leading British expertise in sectors including artificial intelligence, machine learning and space.
The winning design for the UK Pavilion is being produced by Avantgarde, leading a consortium of globally renowned experts including Es Devlin Studios, Veretec, Atelier One, and Atelier Ten.
row-start col-md-7 #top-section top-section new-section
The centrepiece of the UK Pavilion will be a breath-taking, mesmerising sculpture. The radiating, circular form will dramatically broadcast messaging that extends an invite to participate and engage in every direction.
The key elements of the UK Pavilion design and visitor experience are:
Maze of Aspiration: A journey through multiple illuminating displays with an augmented reality experience that explores the UK's role in artificial intelligence, machine learning and space.
Choral Space: Leaving the Maze, visitors are drawn to the entrance of a spherical space to contribute a word to a collective message. As visitors enter the interior, they will participate in an immersive soundscape, reflecting the UK's diverse culture.
Speech Space: The last stage of the journey, visitors will travel back to the UK Pavilion front facade to view the collective message, beamed across the Expo site.
row-end col-sm-12 col-md-5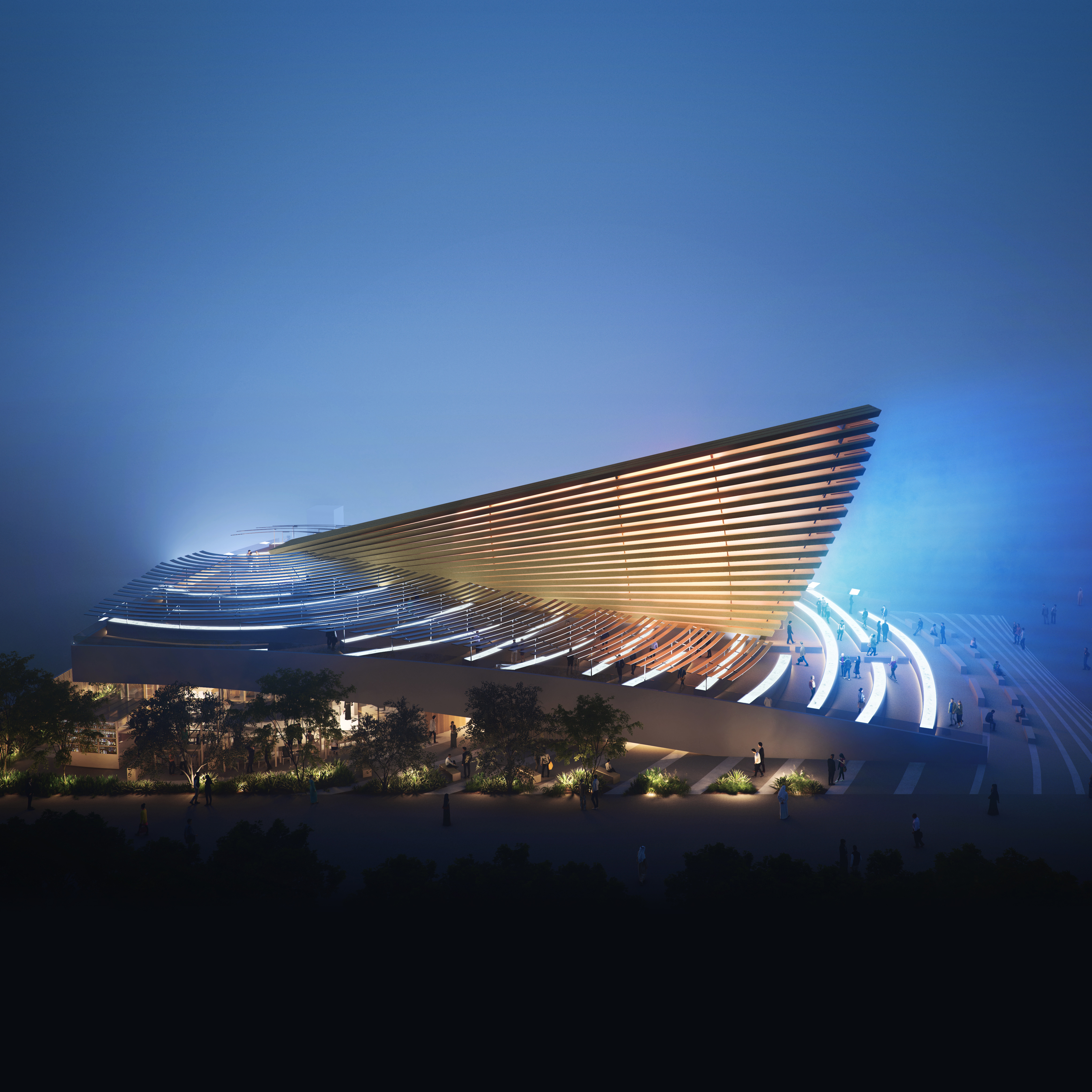 row-start col-xs-12 row-end
Who is leading the UK's participation?
The UK's participation in Expo 2020 Dubai will be led by the Department for International Trade, with support from the GREAT campaign and the following co-funding departments:
Department for Business, Energy and Industrial Strategy
Department for Digital, Culture, Media and Sport
Department for Environment, Food & Rural Affairs
Deparment for International Development
Department for Transport
Foreign & Commonwealth Office
row-start col-xs-12 row-end